View press release as PDF file
April 19, 2007
Contact:
Cindy Lemaire
Telephone: 604-730-0535
Email: info@lemaire-co.com
The New Kid on the Block in West Vancouver's Restaurant Scene
Has Some Old Roots on the North Shore
It's a family affair at West Vancouver's newest authentic Italian restaurant. Mangia E Bevi Ristorante (translation: Eat and Drink) opened its doors on April 10th at 2222 Marine Drive, West Vancouver.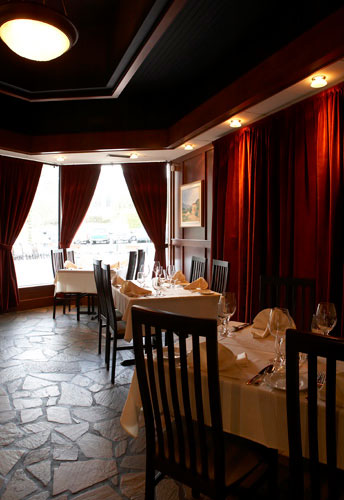 Italian restaurant aficionados will recognize the talents of General Manager, Antonio Sauro, and Executive Chef, Rob Parrott, recently of Gusto di Quattro in North Vancouver. Rob, Antonio, and brother-in-law, Doug Grisdale have teamed up to open Mangia E Bevi Ristorante in anticipation it will become a gathering place for those looking for superb Italian fare, old-world service and a casual comfortable ambiance, all while being treated as one of the family.
Newly renovated in warm wood and aged yellow tones, the restaurant features a tantalizing selection of traditional Italian favourites including their signature Antipasto tower, and other creative starters such as Proscuitto & Fichi – phyllo wrapped figs, prosciutto and blue brie with balsamic syrup. Soup and salad selections include perennial favourites, Caprese Di Bufala with creamy buffalo mozzarella, tomatoes and fresh basil or Zuppa Aroma – mushroom soup with truffled fontina crostini.
Executive Chef, Rob Parrott, presents an outstanding selection of main entrees, with choices ranging from Ravioli Capesante – scallop and apple ravioli with champagne sauce and a grilled jumbo scallop to Anatra Ciliegino – roasted duck breast with dried cherries and cassis as well as Merluzzo Alla Crosta – pistachio crusted Alaskan black cod with roasted red pepper sauce. Dessert includes a full selection of après dinner liqueurs and specialty coffees along with finishing touches like Torta Al Limone & Pinoli – Lemon zabaione, pine nut tart with honeyed mascarpone cream.
The restaurant was inspired by family matriarch Daphne Grisdale, whose generous spirit kept her family close by hosting many large family gatherings to celebrate all occasions. Antonio, who is married to Doug's sister Deborah, felt the same sense of family connection that he grew up with in his native Italy. He wanted to share the celebration of families
enjoying each other's company through food and drink and thus the concept of Mangia E Bevi Ristorante was born. Good food and good company.
Family friend and West Vancouver artist, Lynn Colpitts, offered to paint a vista of Antonio's childhood home in Italy. The painting, Il Paesaggio, is featured prominently in the restaurant and is dedicated to the memory of Daphne Grisdale who passed away last year.
Mangia E Bevi is open for dinner seven days a week and for lunch Monday to Friday. When weather conditions permit, they will be opening their patio as well. The restaurant has a wine room with an intensive wine list and has a private party room for up to 24 people. They hope to grow their family to include the local community so that everyone can enjoy their passion of food, drink and celebration.